I do hope you will find the following interesting. I wanted to include a little bit about the watercolor painting techniques that watercolor artists use in their watercolor paintings. Since I am presently showcasing Long Island, I decided to explain these techniques using beach paintings & lighthouse paintings. Enjoy!
Watercolor Techniques Mastered
A) Lost & Found edges
(also called Hard & Soft edges)
In this watercolor painting technique, the paint is applied on dry watercolor paper, rather heavily, and then a second brush, containing only clear water, in my other hand (yes, both hands are occasionally used in watercolor paintings) immediately touches one of the edges, and pulls the paint away, creating a gradient of color. The painting will then show one edge Hard (Found) and the other edge Soft (Lost). This technique can be seen in many of my paintings.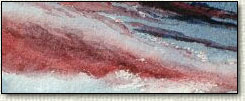 1-Lighthouse Paintings: I listed about 6
Lighthouse paintings showing this technique. Look at the close up at the right and you can see this technique used on the Montauk Lighthouse painting.

Lighthouse Friends (Fire Island Lighthouse painting) Beach paintings require this technique to accurately portray the curve of a sand dune.





2-Fire Island prints: Watercolor paintings of The Fire Island Ferries (lithograph) require this technique to indicate a curve at the bow of the Fire Island Ferry.




3-Optimist: My watercolor paintings of The Optimist, show this technique in the sails. See The Dreamer (giclee print) or Always the Optimist (giclee print).



The Dreamer





4-Cousins of the Blue Lobster
(giclee print): So as to indicate a curve
to the blue lobster body.
B) Dry Brush Technique
Watercolor paintings require other techniques as well. In Dry Brush the watercolor paper is completely dry so that the paint will stay on the watercolor paper exactly where it is placed. This is used, for example, in the watercolor painting of beach grass. As each blade of beach grass is painted, you want the beach grass blade to be sharp edged. Dry brush can be seen in several of my watercolor paintings.

1-Beach With a View I, II, & III: is a series of beach paintings creating a panorama of the Fire Island Beach near Robert Moses Park. Fire Island Ferries can get you there as well.


2-Meeting by the Big Tree (a lithograph): required j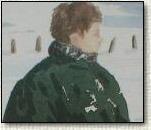 ackets with sharp edges on the children playing hockey. In this hockey print notice the snow on the clothing of Neighborhood Sledders.
This was not painted in, but rather is the watercolor paper showing through. I achieved this sparkle by lowering the handle of the watercolor brush as it slid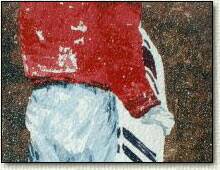 across the watercolor paper. The paint did not have a chance to enter into the pits of the watercolor paper. Children playing hockey are expected to have these snow patches. Neighborhood Sledders also shows this.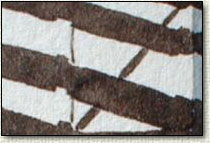 3-Beach Cabanas: Watercolor paintings sometimes need sharp shadows for emphasis and dry brush is used.

4-Cousins of the Blue Lobster:
used to get the mottled appearance on
the red lobsterís body.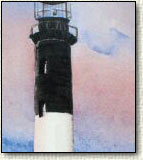 5-The edges of the Montauk Lighthouse Painting and Fire Island Lighthouse Painting as mentioned above.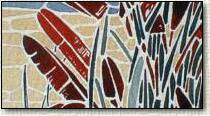 6-Mosaic paintings: all 9 of the Mosaic prints show this dry brush technique since I wanted each mosaic tile to be sharp edged.

C) Wet In Wet
I wet the watercolor paper prior to painting. While it is still wet, I apply the watercolor pigments using different watercolor brushes and, by tilting the paper, I am able to have some control in the mixing of the pigments.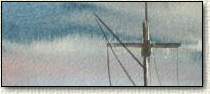 1-This works especially well in painting
skies as in: Always the Optimist at right (giclee print) and Summerís End (lithograph) below.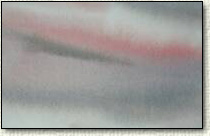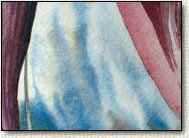 2-Out of focus backgrounds: Crocuses



3-Out of focus foregrounds:
Harbor Twilight
D) Negative Painting
In this case I do not actually paint the object, rather I paint a darker
color around the object, in so doing, the object appears! This can best be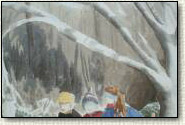 seen in my watercolor lithograph print entitled ďMeeting by the Big TreeĒ (the children playing hockey). Carefully look at the large snow dusted beech tree. This tree was not actually painted, but alluded to, by painting around it.
Of course, much work and many techniques go into each of my watercolors. Any one of them probably uses these 4 techniques (and more!). Suppose you visit a painting not yet mentioned, take a look at Wheels of Fortunes (Red Wagons found at Fire Island communities).
Try to find each of these 4 techniques in that one Fire Island print.
I enjoyed making this page for you, I hope you enjoyed finding out a little bit about how they were painted.
Rick

E-mail: Rick@RickMundy.com Top of Page